Ribbon is printed on a high quality automated foil printing machine and on a thermal printer which guarantees consistency in our high quality products.
We guarantee your money back if the quality of the printing is poor or any mistakes have been made by us.
Our customers include schools, sports clubs, dance schools, photographers and a wide range of businesses. For a list of our happy customers, please go to the "Customers" page.
High quality imported bio-degradable ribbon is used for Ribbon Awards. We have a fabulous selection of colours
We employ the services of a graphic designer to ensure that all art work is of a high quality.
Printing blocks are ordered and made in Johannesburg and can be re-used for a number of years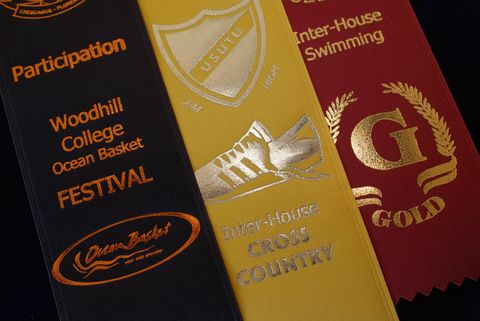 The beautiful shiny foils used make our Ribbon Awards look attractive. Children love the gold, silver and bronze printing. Gift ribbon can be printed in black, green, blue, pink, orange, brown, purple, gold and silver thermal foil.
Ribbon Awards are much less expensive than trophies and medals. These awards are made to be given out immediately at or after an event. There is no extra cost involved in engraving which is the case for trophies and medals. Time does not have to be spent on writing in names as is the case for certificates and the problems incurred with the incorrect spelling of names.
Rush jobs can be done [20% surcharge]. The minimum time required is 10 working days.
Orders sent by courier through the South African postal service can be collected the following day from post offices around South Africa after 10h00. Prompt deliveries can also be arranged by private courier services. Parcels destined for international countries are insured.
Go to the "Request a Quote" page to submit your enquiry.